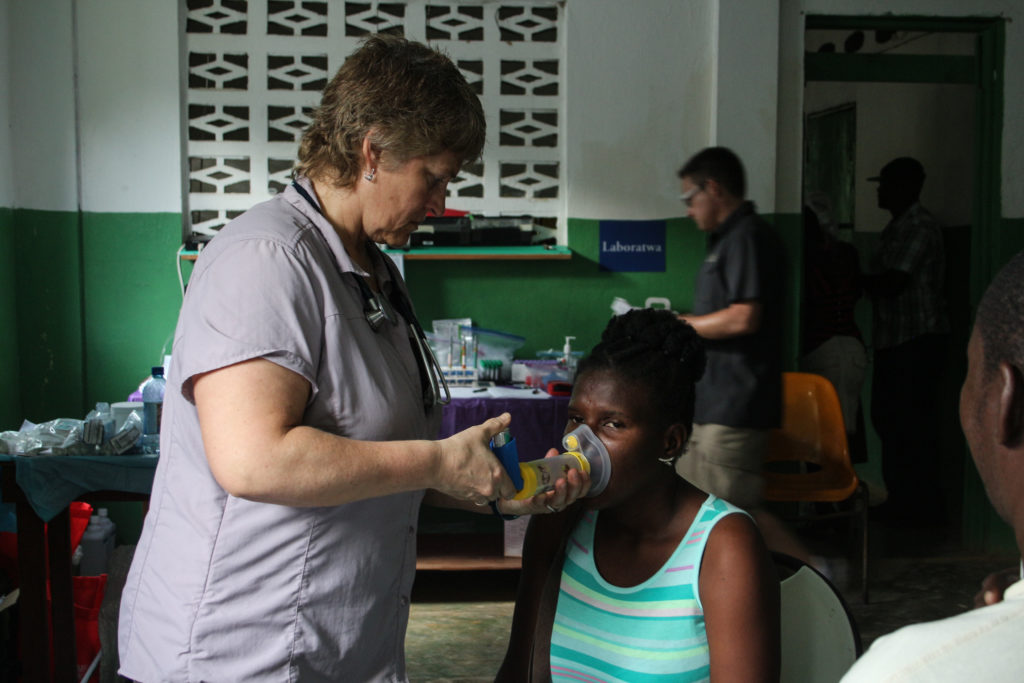 Kris:  GHT Volunteer

A Nurse Practitioner who works as a Flight Nurse for Airlift Northwest, Kris has a Bachelor's in Nursing from Montana State University-Bozeman.  She also has a Master's in Nursing from the University of Washington and is licensed by the State of Washington as an Advanced Registered Nurse Practitioner.   Kris is one of our wonderful volunteers who explains why she keeps coming back to Haiti with GHT.
Simply…the gracious Haitian people who remind me why I chose my profession and the outstanding commitment and leadership of Global Health Teams in serving the people of Haiti.
My first trip to Leon in the Grand'Anse Province was in April of 2010 just after the earthquake that devastated much of Port-au-Prince.  I immediately fell in love with the people of Haiti.  They are kind, caring, resilient and hard working.  The stories of displacement and tragedy were everywhere.  At the same time, the kindness, graciousness, and appreciation for everything we were doing was everywhere.
In Haiti, there is a saying "there are many people without homes, but no one is homeless".  This was never more evident as after the earthquake when households of six become households of 22.
The Grand'Anse province where GHT works had the second largest influx of earthquake refugees. Because there was little damage in the southwest, people fled Port-au-Prince to the Grand'Anse.  The large increase in population quickly overwhelmed local food, housing and healthcare resources.
I have returned to volunteer with GHT every year since 2010.  I appreciate that GHT has been coming to Haiti for 20 years and has developed relationships with the other health organizations in Haiti. We pride ourselves on being a health partner with the providers in Haiti.  The focus on public health messages and health maintenance for the Haitian people shows GHT's commitment to health over time.  GHT is not medical tourism; GHT is the embodiment of service, in the right way.
We focus on team safety, organization and use experienced team leaders.  Our medical guidelines, availability of ultrasound and reliable, advanced lab results dramatically improve our care of the people of the Grand'Anse.
GHT is not a medical training group but instead take established medical providers and helps them adapt their skills to the austere, resource limited environment.
GHT has helped countless numbers of Haitians over the past 20 years; however, the Haitian people have improved and changed my life forever.  It has been my honor and privilege to be part of this organization and to serve the Haitian people.  This is why I keep coming back.   I get more out of going to Haiti than I could ever give back.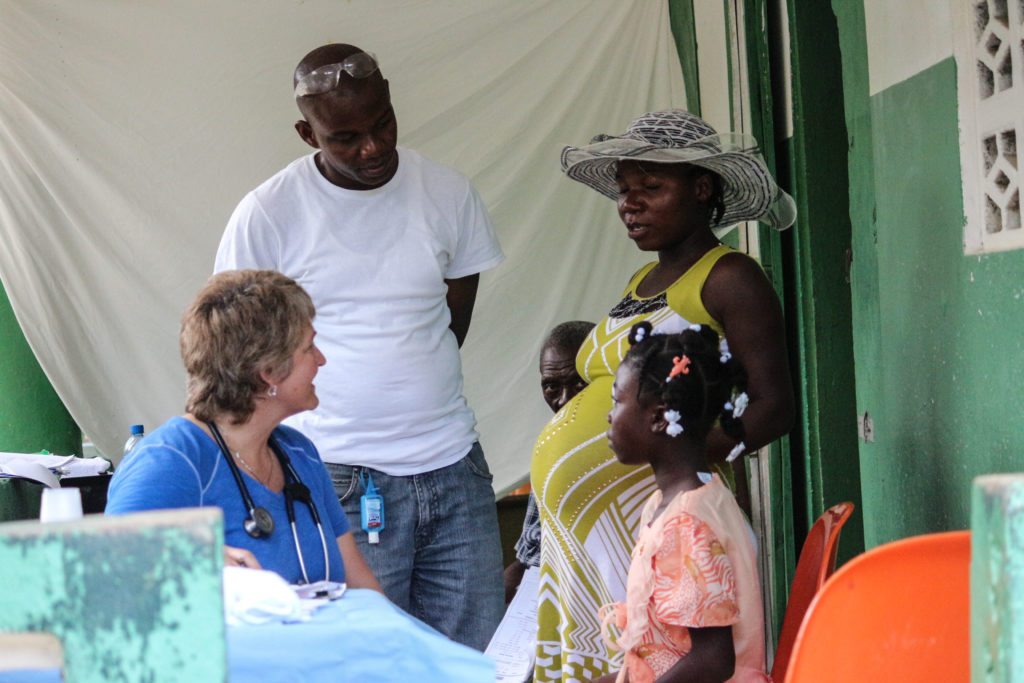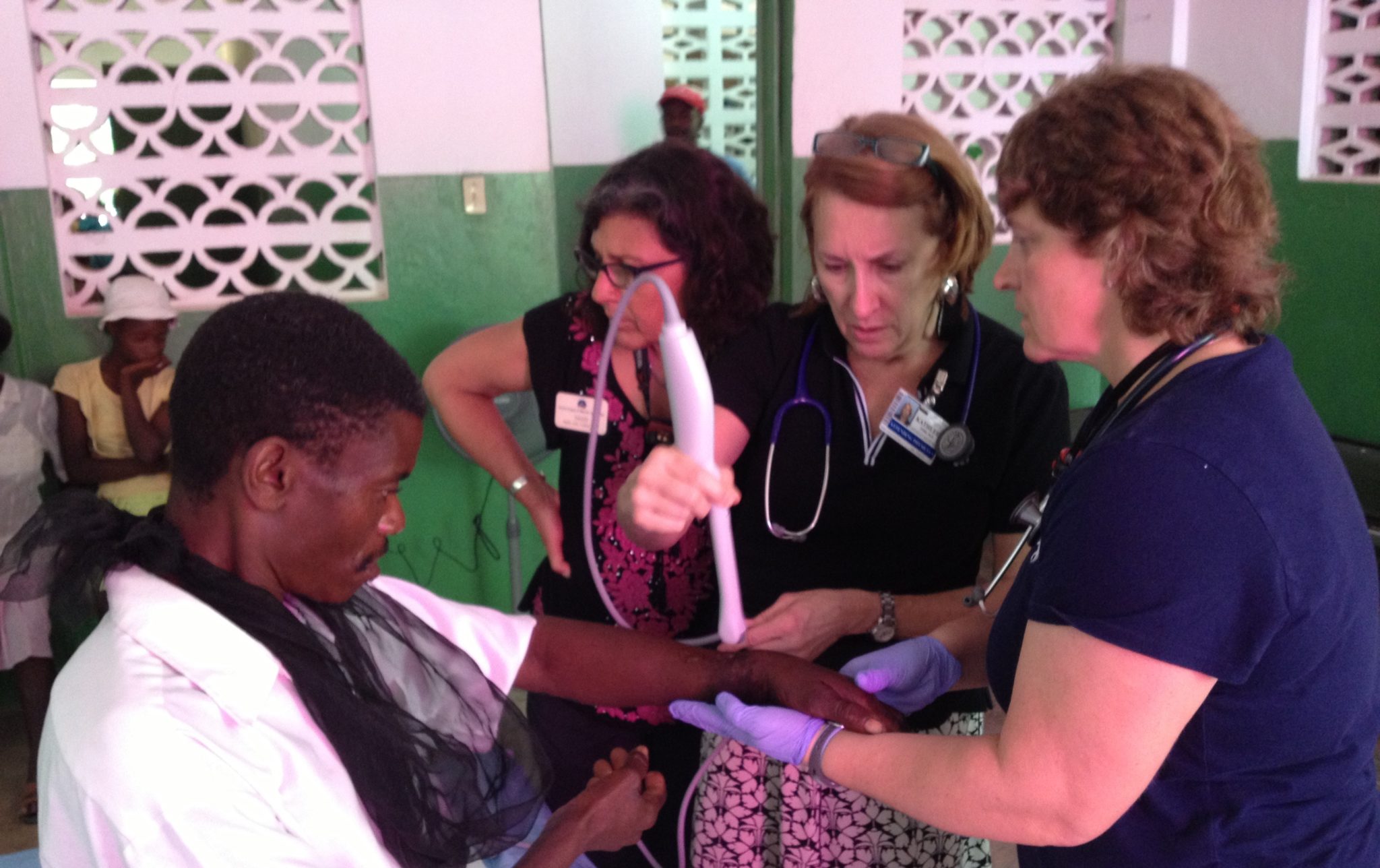 Sponsor a Haiti Medical volunteer
Our volunteers pay a deposit to help cover the cost of transporting and housing them while working in country. You can sponsor a volunteer and cover the cost of their deposit. This is a great way to help someone volunteer at our clinics that may not otherwise be able to afford to go. If you would like to find how you can sponsor a volunteer, please email us!
SHOP ON AMAZON SMILE
Use Amazon Smile to shop and support Global Health Teams at the same time. This is an easy way where your everyday purchases can help Global Health Teams at no cost to you. Log on to smile.amazon.com and select Global Health Teams as your nonprofit of choice. After that, continue to log on to smile.amazon.com and shop as normal.